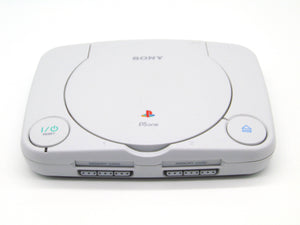 Sony PSOne Slim Console
Regular price
$44.99
$0.00
Unit price
per
Sign up for restock notifications!
Console and accessories are lightly cleaned on the outside of the console. We disinfect according to the latest CDC guidelines and thoroughly test our consoles to ensure you receive a well working machine. These consoles are used condition so may come with minor wear with little to no yellowing.
Includes                                                      
1 x PreModded PSOne Slim Console Only
PSNee Region Free Modchip
PSNee is modchip that will allow your PS1 to read import discs from all regions including backup discs.
New Capacitors
If you want a fully restored console making it basically new again, choose to have all the capacitors replaced. Capacitors in all electronics general lifespan is about 25-30 years until they start to dry up. When this happens your consoles audio and/or video will begin to degrade and even worse fail to power on anymore. Replacing capacitors is preventative maintenance and a good investment to keep your consoles or electronics working up to spec for several more years.
Full Service Wash and Polish
Console/controller gets a complete inside and out cleaning in warm soapy water. After they're dried they're polished with 303 UV Protectant coating to give a brand new shine and protection against dirt, dust and UV.
Powr Up Gaming provides a 30 Day Return Policy and 90 Day Warranty on all products and services. This return policy is only granted for defects and/or failures in terms of product or alteration/modifications within this period. Please see our full Warranty and Return Policy HERE 
When purchasing a service, return shipping cost will be charged upfront at checkout. All consoles are subject to a 3-4 week turn-around time. Please note that the turn-around time isn't strictly limited to 3-4 weeks. Consoles must be sent to me in fully operational order and in a sanitary state. Consoles that are sent to me in an unsanitary state such as but not limited to insect infestation will be charged an additional fee.
All other products sold such as "PreModded Made to Order" products are typically shipped within 3-4 weeks. However, depending on volume, orders may take several days to ship.
---
Share this Product
---