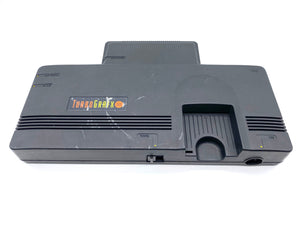 NEC Turbo Grafx Console
Regular price
$199.99
$0.00
Unit price
per
Please note the cosmetic scratches on this console.
Most NEC consoles capacitors have already begun leaking on the motherboard and thus thorough cleaning and repair of the pads and/or traces are necessary before installing new capacitors.

NEC Turbo Grafx Console with options for addon modifications. Please see a detailed description of each addon modification below.

All consoles/controllers are in similar condition as pictured. Consoles/Controllers are cleaned and disinfected in our UltraSonic Cleaner to ensure you receive your console Germ and dust free! We thoroughly test our consoles to ensure you receive a well working machine. These consoles are used condition so may come with minor wear with little to no yellowing.

Included
1 x Turbo Grafx Console Only

Will ship 4-6 weeks not including weekends and holidays
Voultar's RGB Board
This enables you to get higher quality RGB output from all NEC Consoles
Region Free Switch
This is a switch installed to swap the console to USA and Japanese modes. 
New Capacitors Includes Jailbar Fix and Trace/Pad Cleaning Repair
If you want a fully restored console making it basically new again, choose to have all the capacitors replaced. Capacitors in all electronics general lifespan is about 25-30 years until they start to dry up. When this happens your consoles audio and/or video will begin to degrade and even worse fail to power on anymore. Replacing capacitors is preventative maintenance and a good investment to keep your consoles or electronics working up to spec for several more years.
Powr Up Gaming provides a 30 Day Return Policy and 90 Day Warranty on all products and services. This return policy is only granted for defects and/or failures in terms of product or alteration/modifications within this period. Please see our full Warranty and Return Policy HERE 
When purchasing a service, return shipping cost will be charged upfront at checkout. All consoles are subject to a 3-4 week turn-around time. Please note that the turn-around time isn't strictly limited to 3-4 weeks. Consoles must be sent to me in fully operational order and in a sanitary state. Consoles that are sent to me in an unsanitary state such as but not limited to insect infestation will be charged an additional fee.
All other products sold such as "PreModded Made to Order" products are typically shipped within 3-4 weeks. However, depending on volume, orders may take several days to ship.
---
Share this Product
---