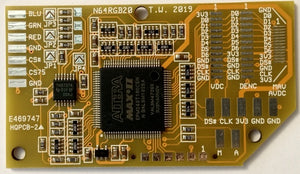 Tim Worthington N64 RGB Kit v2.0
Regular price
$80.00
$0.00
Unit price
per
Sign up for restock notifications!
Tim Worthington's N64 RGB v2.0 which features DeBlur! You can activate these features from your controller. Instructions for controller input will be included. If you wish to support the original developer visit his website HERE
Version 2 has the same installation process and features as the previous version. The difference is that this new hardware has much better immunity to noise on the 3.3V rail.
Solder in board which adds RGB video support to the Nintendo 64 console. Works on all models of Nintendo 64, compatible with all Super Nintendo and Gamecube RGB cables.
The board is supplied with a 1.27mm pitch ribon cable, 30cm long.
Some of the later models of Nintendo 64 have a fine pitch DAC chip (MAV-NUS or AVDC-NUS). This requires an extra adapter which will be included.
Installation instructions at http://etim.net.au/n64rgb
Powr Up Gaming provides a 30 Day Return Policy and 90 Day Warranty on all products and services. This return policy is only granted for defects and/or failures in terms of product or alteration/modifications within this period. Please see our full Warranty and Return Policy HERE 
When purchasing a service, return shipping cost will be charged upfront at checkout. All consoles are subject to a 3-4 week turn-around time. Please note that the turn-around time isn't strictly limited to 3-4 weeks. Consoles must be sent to me in fully operational order and in a sanitary state. Consoles that are sent to me in an unsanitary state such as but not limited to insect infestation will be charged an additional fee.
All other products sold such as "PreModded Made to Order" products are typically shipped within 3-4 weeks. However, depending on volume, orders may take several days to ship.
---
Share this Product
---