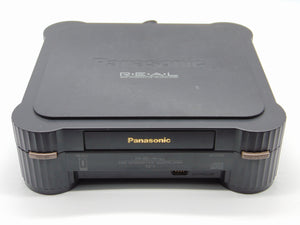 Panasonic 3DO Console
Regular price
$199.99
$0.00
Unit price
per
Panasonic 3DO Console with options for addon modifications such as RGB mods for better picture quality. Please see a detailed description of each addon modification below.
All consoles/controllers are in similar condition as pictured. Consoles/Controllers are cleaned and disinfected in our UltraSonic Cleaner to ensure you receive your console Germ and dust-free! We thoroughly test our consoles to ensure you receive a well-working machine. These consoles are in used condition, so that they may come with minor wear with little to no yellowing.
Included
1 x Panasonic 3DO Console Only
3DORGB by Citrus3000psi
The board takes incoming sync signals and modifies them to output pure CSYNC. It also handles the 240p and 480i switching, so there is never a misalignment. You can choose either 9-pin or 8-pin Din for RGB output.  
3DO Controller Reset
An in-game reset mod kit for 3DO consoles. This kit includes a small PCB that can be soldered directly underneath the 3DO controller connector with a single wire to trigger the reset. Once installed, pressing L + R + X (Stop) + P (Play) simultaneously on any standard 3DO controller will trigger the console to reset. Either reboot the current game in the CD tray or return to an ODE (optical disc emulator) menu screen. The 3DO flight stick is also compatible, but to avoid conflicts with some games, the button combination is L + R + X (Stop) + P (Play) + B + Trigger.
3DO ODE
FZ1 Compatible ODE (Optical Drive Emulator). Supports presenting game images stored on USB storage and microSD cards to the game console as CDROM mounted on the CDROM drive.
Xport ODE
External ODE (Optical Drive Emulator) for 3DO Console. To be compatible, the console must have a 30pin "Extension" port. This version allows FZ-EM256 emulation in addition to CDRom emulation.

New Capacitors
If you want a fully restored console, making it new again, choose to have all the capacitors replaced. Capacitors in all electronic's general lifespan is about 25-30 years until they dry up. When this happens, your console's audio and/or video will begin to degrade and, even worse, fail to power on anymore. Replacing capacitors is preventative maintenance and an excellent investment to keep your consoles or electronics working up to spec for several more years.

UltraSonic Wash and Polish
Plastics and metal parts get a complete inside and out cleaning in our UltraSonic cleaner! It will be disinfected entirely to ensure you receive your console germ and dust-free. After cleaning, consoles/controllers are dried and polished with 303 UV Protectant coating to give a brand-new shine and protection against dirt, dust, and UV. 
PowrUp Gaming provides a 30 Day Return Policy and 90 Day Warranty on all products and services. This return policy is only granted for defects and/or failures in terms of product or alteration/modifications within this period. Please see our full Warranty and Return Policy HERE 
When purchasing a service, return shipping cost will be charged upfront at checkout. All consoles are subject to a 1-3 week turn-around time. Please note that the turn-around time isn't strictly limited to 1-3 weeks. However, depending on volume, orders may take several days to ship. Consoles must be sent to me in fully operational order and in a sanitary state. Consoles that are sent to me in an unsanitary state such as but not limited to insect infestation will be charged an additional fee or even denied service. A refund will be given minus the service fee and return shipping costs. 
---
Share this Product
---