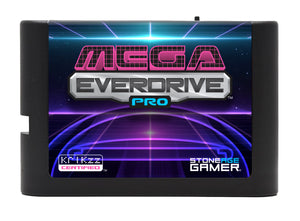 Mega EverDrive Pro Deluxe Edition
Regular price
$274.99
$0.00
Unit price
per
Sign up for restock notifications!
This is the Retro Space - Black version of the Mega EverDrive Pro. This cartridge comes assembled in a standard black shell with purple/turquoise Retro Space label and anodized aluminum purple screws.
Deluxe Edition includes the cartridge, a case, printed manual, a Mega EverDrive Pro sticker, Stone Age Gamer sticker, and is covered by a 2-year Warranty.
FEATURES
Cyclone IV FPGA

16MB PSRAM and 1MB SRAM memory

High quality 6-layers PCB with hard gold surface finish

Supported ROM formats: Genesis, 32X, Mega-CD, Master System, NES*

Ram cart for Mega-CD

CD bios swap function turns off region locks for Mega-CD games

Hardware MegaKey turns off region locks for Genesis games

YM2413 core for Master System games

SVP core support

Pier Solar mapper support

In-game menu. You can save game or return to system menu without physical reset

In-game menu supported for Genesis and Master System modes

Full EEPROM saves support

Real time clock for logging date and time of saves

ARM based 32bit I/O co-processor for SD and USB operations acceleration

Up to 1024 files per folder or unlimited if file sorting is disabled

Multi slot save states. 100 save states slots for each game

Instant ROM loading

USB port for development and system update without removing Micro SD card

Battery voltage monitoring. Battery can be replaced in time if it runs dry

Game Genie cheats support
*32X games require 32X addon to be attached.
*NES core has limited compatibility. Refer to user manual for details.
*NES core currently supported only for NTSC systems.
*For Mega-SG "Zero lag" option should be turned off for NES games (accurate Genesis timings required).
Downloads:
OS update 
USB tool
Development resources (Github)
User manual
UI customization tool
MegaColor video converter
Useful links:
Menu themes by ArcadeTV
MSU-MD hacks by ArcadeTV
MSU-MD games database
MegaDoom port for EverDrive PRO (ported by uniq.games)
Mega Drive MIDI Interface
Video tutorial by Sho
PowrUp Gaming provides a 30 Day Return Policy and 90 Day Warranty on all products and services. This return policy is only granted for defects and/or failures in terms of product or alteration/modifications within this period. Please see our full Warranty and Return Policy HERE 
When purchasing a service, return shipping cost will be charged upfront at checkout. All consoles are subject to a 1-3 week turn-around time. Please note that the turn-around time isn't strictly limited to 1-3 weeks. However, depending on volume, orders may take several days to ship. Consoles must be sent to me in fully operational order and in a sanitary state. Consoles that are sent to me in an unsanitary state such as but not limited to insect infestation will be charged an additional fee or even denied service. A refund will be given minus the service fee and return shipping costs. 
---
Share this Product
---